The recent announcement of Corey
Maggette
and Elton Brand's departure from the Los Angeles Clippers left Baron Davis like a dateless wonder stood up for the prom.
Yes, it's true;
Maggette
and Brand will no longer wear Clippers jerseys or call
Playa
Vista their home.
Maggette
has agreed to a five-year, $50 mil contract with the Golden State Warriors and Elton Brand will become a 76er for five years at a cool $82 mil. The Brand deal was made possible with the 76
ers
' trade of forward Rodney Carney and a future Number One Draft Pick to the Minnesota
Timberwolves
.
Maggette
's acceptance of the Golden State deal came after learning the Clippers Organization was not willing to match the Warriors' offer just as Warriors' point guard Baron Davis opted out of his contract with a verbal commitment to the Los Angeles
Clipps
. Davis had agreed to join the Clippers under the assumption that Brand and/or
Maggette
would remain in Los Angeles.
It's going to be an interesting season to say the least.
Goodbye Elton, we'll miss your 20.3 averaged points and 10.2 rebounds. We wish you well and hear great things about the cheese steak
sammiches
in Philly. Goodbye
Maggette
, your averaged 22.1 points, 5.6 rebounds and career-high 681 free throws will be missed as well. Best of luck in San Francisco with all the
Rice-a-Roni
you can eat.
Hello Baron Davis, we welcome you to the 90094.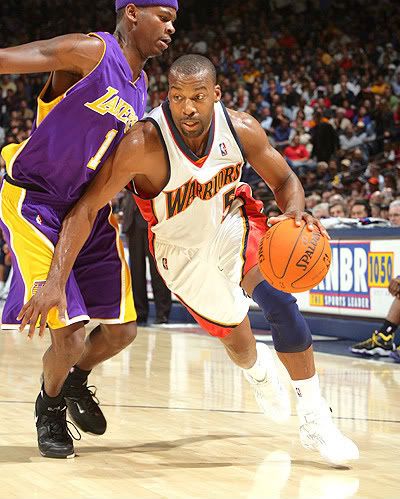 Baron Davis, Our NEW Clippers guard